Your Past Has Passed: How to Get From Your Present to Your Potential
by Linda H. Williams
Linda has overcome domestic violence, substance abuse and homelessness to discover her passion for serving and helping women through life's challenges. Linda knows firsthand how difficult life can be and using her own experiences, education and training she has developed a powerful program that will help you turn your life around.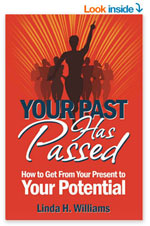 In Linda's new book, you will discover…
• That your past or current situations do not define you
• Many ways to feel good about yourself
• How to say goodbye to fear, guilt, and shame forever
• Tools to rid yourself of any baggage you've been carrying around
• Step- by-step instructions to help you plot your course
…and so much more.
Order today securely at Amazon.com ( Available in both Paperback & Kindle formats)