"If the only prayer you say in your life is 'thank you,' that would suffice." – Meister Eckhart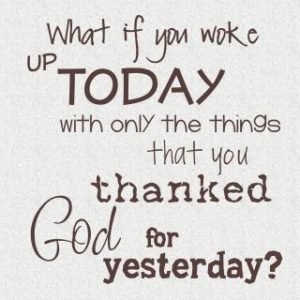 Excerpts from 7 Scientifically Proven Benefits of Gratitude That Will Motivate You to Give Thanks Year-Round by Amy Morin
Gratitude means thankfulness, counting your blessings, noticing simple pleasures, and acknowledging everything that you receive. It means learning to live your life as if everything were a miracle, and being aware on a continuous basis of how much you've been given. Gratitude shifts your focus from what your life lacks to the abundance that is already present.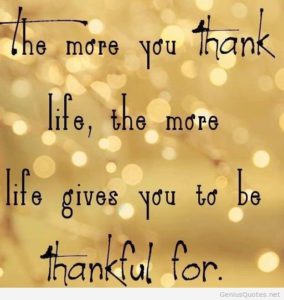 It's that time of year where many people begin thinking about everything they have to be thankful for. Although it's nice to count your blessings on Thanksgiving, being thankful throughout the year could have tremendous benefits on your quality of life.
In fact, gratitude may be one of the most overlooked tools that we all have access to every day. Cultivating gratitude doesn't cost any money and it certainly doesn't take much time, but the benefits are enormous.
1. Gratitude opens the door to more relationships. Not only does saying "thank you" constitute good manners, but showing appreciation can help you win new friends. So whether you thank a stranger for holding the door or you send a quick thank-you note to that co-worker who helped you with a project, acknowledging other people's contributions can lead to new opportunities.
2.  Gratitude improves physical health. Grateful people experience fewer aches and pains and they report feeling healthier than other people.  Not surprisingly, grateful people are also more likely to take care of their health.  They exercise more often and are more likely to attend regular check-ups with their doctors, which is likely to contribute to further longevity.
3.  Gratitude improves psychological health. Gratitude reduces a multitude of toxic emotions, ranging from envy and resentment to frustration and regret. There is a definite link between gratitude and well-being. It has been confirmed that gratitude effectively increases happiness and reduces depression.
4. Gratitude enhances empathy and reduces aggression. Grateful people are more likely to behave in a prosocial manner, even when others behave less kind, People who rank higher on gratitude scales are less likely to retaliate against others, even when given negative feedback. They experienced more sensitivity and empathy toward other people and a decreased desire to seek revenge.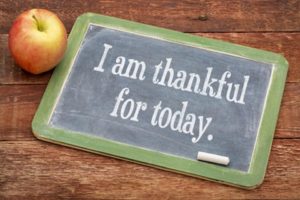 5. Grateful people sleep better. Writing in a gratitude journal improves sleep. Spend just 15 minutes jotting down a few grateful sentiments before bed, and you may sleep better and longer.
6. Gratitude improves self-esteem. Gratitude reduces social comparisons. Rather than becoming resentful toward people who have more money or better jobs – which is a major factor in reduced self-esteem- grateful people are able to appreciate other people's accomplishments.
7. Gratitude increases mental strength. Research has shown gratitude not only reduces stress, but it may also play a major role in overcoming trauma. Studies have found that gratitude was a major contributor to resilience following the terrorist attacks on September 11.  Recognizing all you have to be thankful for – even during the worst times of your life – fosters resilience.
Once you become oriented toward looking for things to be grateful for, you will find that you begin to appreciate simple pleasures and things that you previously took for granted. Gratitude should not be just a reaction to getting what you want, but an all-the-time gratitude, the kind where you notice the little things and where you constantly look for the good even in unpleasant situations. Today, start bringing gratitude to your experiences, instead of waiting for a positive experience in order to feel grateful; in this way, you'll be on your way toward becoming a master of gratitude.