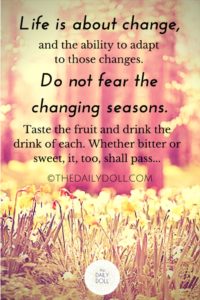 Ecclesiastes 3:1-8
To every thing there is a season, and a time to every purpose under the heaven:
A time to be born, and a time to die; a time to plant, and a time to pluck up that which is planted;
A time to kill, and a time to heal; a time to break down, and a time to build up;
A time to weep, and a time to laugh; a time to mourn, and a time to dance;
A time to cast away stones, and a time to gather stones together; a time to embrace, and a time to refrain from embracing;
A time to get, and a time to lose; a time to keep, and a time to cast away;
A time to rend, and a time to sew; a time to keep silence, and a time to speak;
A time to love, and a time to hate; a time of war, and a time of peace.
Excerpts from As Seasons Change, Enjoy Where God Has You by Ruth L. Whitfield
The Bible says there is a season for everything in life (see Eccl. 3:1-8). If only you could embrace the seasons of your life as willingly as you embrace the seasons of the year. It's been said that the only thing that is constant is change; but unfortunately that's what you tend to resist—especially if it means going outside your comfort zone.
God has planned the seasons of your life with infinite wisdom. He has ordained each one, knowing exactly what fruit is to be harvested during each time frame. I'm convinced that since His desire is to do us only good, He enjoys each season He plans for us (see Jer. 29:11). So why are we so prone to resist the season we're in?
It's as if we are never satisfied. When it's summer, we want fall. When it's winter, we want summer. When we are single, we want to be married. When we are married, we want children, and when we have children, we want them to be grown and out of the house. When the nest is finally empty, we miss them and want them back—at least for a little while.
God is always working, even in seasons when we don't see much activity. During the season of planting, when there is no harvest, God is watering, nurturing, fertilizing and containing us so that in due season we can bring forth fruit.
After a season of harvest, He often initiates a time of pruning. Painful though this may be, it is necessary for us to produce even more fruit. We can trust God to do whatever He needs to do in our lives today because of His proven faithfulness yesterday.
During this season of thanksgiving, let's determine to count our blessings and enjoy, as He does, the season He has us in. Every day is a gift, and we should savor all the sights, sounds, smells, friendships, fellowship, family, food and fun of the season. Let's also be thankful that God, in His infinite wisdom, planned our lives and leads us through many fruitful seasons. Instead of wishing we were in a different one, let's embrace and enjoy the one we are in right now.
Just like there are 4 seasons, there are 4 lessons that are crucial to your life. By becoming aware of them, learning them, and applying them in your existence, there is no doubt that you will craft a very fulfilling life.
1. Handle the winters
Every year, winter comes. It always comes. We deal with it by preparing for it. Whether it's changing our clothing or changing our way of life, we always get ready for winter, because we know it's coming. The same applies to your life. Rough times WILL come. No life goes smoothly without a problem from beginning to end. Thus, you have to be ready for it, for when it does come, you are not stuck in the cold without a coat. Be ready to handle the winters in your own life.
2. Take advantage of the spring
Every year, after a long winter, comes the spring. This is a time where opportunities arise. Flowers blossom and creatures come out of their hibernation. The same thing applies within your life. After a challenging time, you will be faced with a great opportunity. It is your duty to take full advantage of the springs when they pop up. This is your moment to plant the seeds of greatness to come. You never see all the beauty that is life and nature on this planet decide not to awaken one year in the spring! It does because it is meant to do so. Hold your own existence to that same standard. Make your springs the springboard to getting where you want to go.
3. Protect your summer
After having planted your seeds in the spring, soon the summer will come. This is a time where you can reap the benefits of your crops. As well as being a time of joy and comfort, it is also a time to be careful. As Jim Rohn points out, "all good will be attacked". If you are not careful, your crops will be either stolen, destroyed, or spoiled. Therefore you must do whatever it takes to protect your crops. Once you have achieved something in your life, you must defend it. You must stand up for it, and protect its value. Otherwise you may find yourself losing it.
4. Take responsibility in the fall
As the autumn comes, the trees change color, lose their leaves, and the weather gets cooler. As you gear up for another winter, it is the best time to take full responsibility of what happened in the previous seasons, both good and bad. This is the time where you can open yourself to learning the lessons that the previous seasons taught you and put everything into perspective. They say that the fall is the time of the year where there are more depression than any other time. This is due to people not taking such responsibilities and learning from previous successes and/or mistakes. Only by doing so can you be ready once more to handle another winter that is coming and plan for the following spring & summer.
~ Taken from "The 4 Major Seasons of Life" by INeedMotivation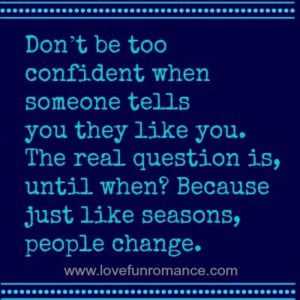 The seasons of life are as temporary as the rain, the thunder, or the wind that happens in a  storm. None of these events will last forever. They are temporary in nature, just as the seasons of life are temporary.
The joy you experience during your summer season will not last forever. There will inevitably be a moment when your thoughts, decisions and actions will naturally move you into another phase of life, which may lead to pain and anguish. However, this too is only temporary, and this too will also eventually pass.
The length of time it takes you to progress through each season is simply a reflection of your state-of-mind — a reflection of your ability to adapt to the conditions and circumstances that you find yourself in. If you adapt successfully, you will move through difficult and unpleasant phases quickly. On the other hand, if you are unable to adapt, then you will miss out on the opportunities that life inevitably throws your way.
Life is about transition, change and transformation. Every experience — no matter how you perceive it — helps you to grow and develop.  These experiences pave the way for ever richer experiences that will enable you to overcome the bumps in the road that life throws your way.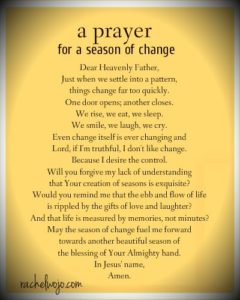 Embrace the season of life that you are in and prepare yourself for the next. Be blessed